Three Legs and a Spare
$19.95
The first Tripawds dog amputation handbook includes fast answers to the most common questions about canine limb amputation recovery and care. New and Improved Fourth Edition!
Description
First Dog Amputation Ebook Now in Fourth Edition!
Three Legs and a Spare is the first Tripawds dog amputation ebook. This essential canine amputation recovery and care handbook has been updated to include even more articles, forum topics, videos, podcast interviews, and many other helpful resources!
Whether your dog has already lost a leg or will be having an amputation soon – due to cancer or for any another reason – Three Legs & a Spare will help you prepare for your dog's new life on three legs.
Get two books in one and save with the Tripawds Ebook Library!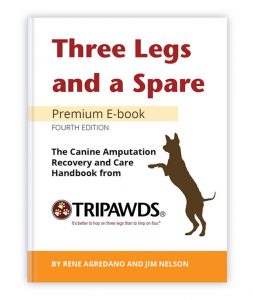 Find Quickly answers to common concerns:
Canine amputation surgery costs
How to decide if amputation is right for your dog
Preparing yourself, your dog, and your home
Pre-amputation questions to ask your vet
Post-surgery pain management strategies
Common amputation recovery concerns, and how to handle them
Purchase includes coupon for 50% OFF Be More Dog e-book!
Download now for fast answers to the most common dog amputation recovery questions. This 150-page interactive PDF features direct links to hundreds of the best articles, forum topics, videos, and podcast interviews from more than thirteen years of the Tripawds Blogs and discussion forums.
Tripawd Basics version also available for Kindle and in Paperback on Amazon.
Please be sure to save the PDF to your device. Because when viewing the file on an iPad or mobile device it will load in your browser by default and there is a limit of 10 downloads! Your link expires in 90 days.
NOTE: Printed copies of this premium e-book are not available. Get Tripawd Basics if you prefer a paperback. The true value of Tripawds e-books is the hundreds of direct links they contain to more helpful articles, videos, and podcasts available online.