Rear Limb Tripawd Rehab Program
$147.00
Learn how to keep your hind leg amputee dog fit and strong with this Rear Limb Tripawd Rehab Webinar from Canine Rehab on Demand. Optional bundle includes 12-week rehab program, exercise charts, nutrition plan, and more.
Description
With this informative webinar, you'll learn important Recovery and Rehab Treatment Strategies for rear-leg amputee dogs. Quickly see how to help your new rear Tripawd get up and around during the post-op period.
And, discover a multimodal approach to help prevent injuries and maintain joint health
Upgrade to the optional Program Bundle and get instant access now to your professionally designed rehab program for rear leg amputee dogs that you can perform at home, to keep Tripawds fit and strong. Introducing Canine Rehab on Demand from Certified Canine Rehab Practitioner Dr. John Waterhouse, CCRP at Veterinary Teaching Academy.
Your webinar purchase includes Forever Access to the comprehensive educational lecture covering all aspects of amputation recovery for dogs. You'll also get a Time Stamped Index, Key Points Summary, and Downloadable Audio file. The optional 12-week rehab program is specifically designed for three legged dogs missing a rear leg. Plus, get  nutritional plan with recommended supplements. The rehab segment includes detailed step by step video instructions and downloadable resources. You'll get everything you need to help recovering Tripawds regain strength, and keep all three-legged dogs healthy and strong.
Rear Limb Tripawd Rehab Program Bundle Includes:
Comprehensive Informational Videos
Exercise Progress Charts
12-week At Home Rehab Exercise Program
Nutraceutical Plan and Recommended Supplements
Suggested Helpful Gear and Equipment
Tripawd Rehab Treatment Modality Guide
Instant 24/7 Lifetime Access!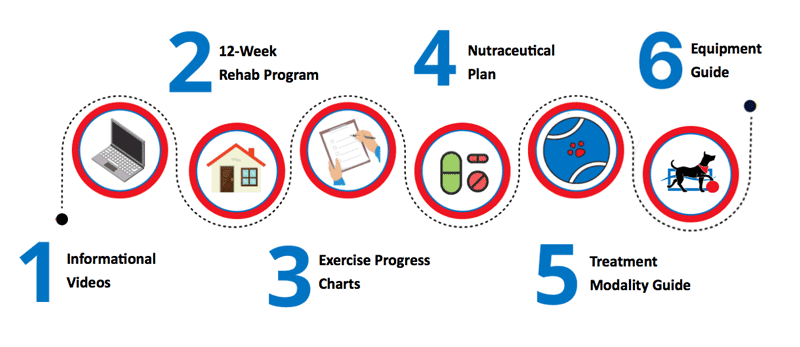 Get instant access now for the webinar: Managing a New Tri-limb Pet Following Surgery. Learn helpful recovery and rehab treatment strategies. Includes Webinar Lecture, Time Stamped Index, Key Points Summary, and Downloadable Audio.
12-Week Rear Leg Tripawd Rehab Program
GET BUNDLE FOR STEP-BY-STEP WEEKLY EXERCISES TO DO WITH YOUR PET AT HOME
Simple, easy-to-follow, 12-week home physical rehabilitation program for you to do with your pet to help them regain function, mobility and strength
Comprehensive instructional and informational videos, photos, and descriptions of each exercise to follow along
This is the exact same system taught to veterinary and canine rehabilitation experts in the Veterinary Teaching Academy to help them assist their clients and their patients to a quicker recovery
Always check with your Veterinarian prior to starting any program

Know somebody with a  rear-leg Tripawd? Share this link: https://tri.pet/rehab-rear