Tripawd Heroes E-book (Free!)
$0.00
Download this free PDF to print your own copy of Tripawd Heroes Volume One!
Description
Now Free Download!
Subscribe to receive the best amputation recovery and care tips by email, and immediately download this inspirational photo book featuring the stories of 25 amazing dogs loving life on three legs! Get links to Top Tips Videos from veterinarians and vet techs, discover the importance of rehab, learn about Tripawds spokesdogs Jerry and Wyatt, and receive a coupon code for the Tripawds e-books Library.
Featuring the stories of 20 inspirational canine amputees loving life on three legs, the print edition of Tripawd Heroes is the perfect gift for your vet, oncologist or anyone with a three legged dog. Download this FREE PDF to print your own copy.
Read the original Tripawd Heroes book announcement or visit the Tripawds bookstore for details or to preview pages and purchase the printed book.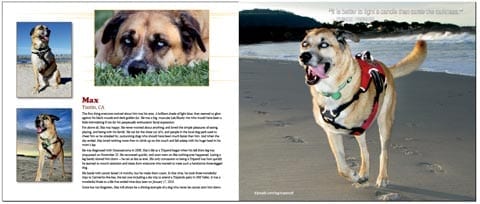 New to Tripawds? Download Tripawd Heroes to receive helpful tips for canine amputation recovery and care!
Please be sure to download the file to your hard drive. Web browsers may not properly display the images, and there is a limit of 10 downloads. For best results, view or print the file using Adobe Acrobat Reader.
Click the Download Now button to download this e-book for FREE! Visit the Tripawds Bookstore to preview pages or purchase the printed book.