When you're dealing with a new cancer diagnosis for your dog, digging through treatment information is overwhelming. To make coping a bit easier, dog cancer vet Dr. Demian Dressler, DVM has done much of the work for you.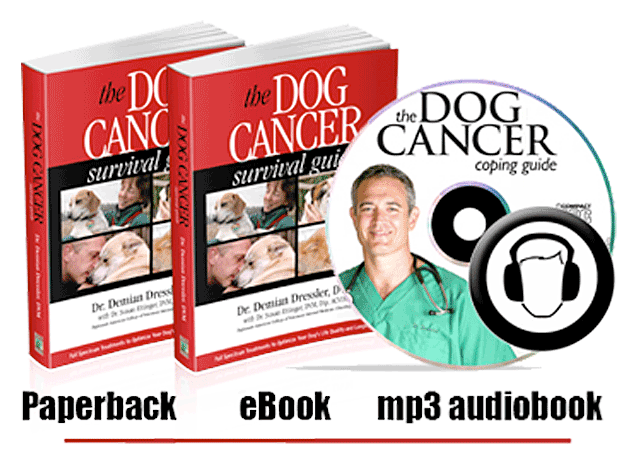 UPDATE: Dr. Dressler's acclaimed e-book is now included in his comprehensive Dog Cancer Kit!
• Paperback
• E-book
• Audiobook
• Webinar
• And More!
• Download Now!
Dr. Dressler is known as the Dog Cancer Vet, and the author of The Dog Cancer Survival Guide. He is a traditionally schooled vet who has also practiced holistic canine cancer care for over a decade. Dr. Dressler believes in a full-spectrum approach to canine cancer that includes chemotherapy and/or radiation, as well as utilizing evidence-based alternative medicine.
The Dog Cancer Survival Guide is available for immediate download. You'll learn:
why and how to mentally prepare yourself for what's ahead
what you need to know about canine cancer
how to work with your vet to choose appropriate, beneficial treatments for your Tripawd.
The Dog Cancer Survival Guide is a 283-page book that includes free bonuses valued at more than $150. Backed by a 60-day, 100 percent money-back guarantee, this informative e-book package is available for a 21-day trial for just $4.95. Read Jerry's detailed review and see testimonials from other readers. The complete guide and video download normally costs $97.00 but is available for a limited time at just $37.00!
Download the Dog Cancer Survival Guide today.
Related Posts:
Dog Cancer Survival Guide e-Book Review
Reader Testimonials for Dr. Dressler's e-Book
Dr Dressler's Free Dog Cancer Diet e-Book