Wondering if the Tripawds e-book Three Legs and a Spare is worthwile? Check out what some satisfied readers recently said about this informative resource full of direct links to the best canine amputation advice the Tripawds Community has to offer!
"We ordered your e-book the night Molly had her amputation. What a great gift. I only wish the veterinarian who did the amputation had this ebook to give us. As is, we learned so much. Your work is truly a gift to pawrents… We are a pharmacist and physical therapist but we both leaned so much about what to expect.
Your work is excellent and we continue to read the ebook as we did today to learn about phantom limb syndrome. Molly sometimes licks without stopping on the pillow where her missing front paw should be. We found that rubbing her amputation incision gently relieves this behavior so we believe it is indeed phantom limb syndrome."
— Bob, Kris, Molly & Amber
McAllister, MT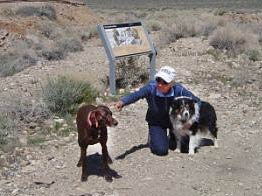 As much as we enjoy hearing feedback like this, it was the city this comment came from that struck a chord with us.
It was in McAllister that we said goodbye to Jerry under the big Montana sky after he loved life on three legs for nearly two years, spreading the word around the country that Tripawds have more fun!
Jerry's spirit continues to shine on those faced with amputation for their dogs, as evidenced by these other comments about the e-book and community he inspired…
"I wish this book would have been available when Emily got sick. Great job. You are helping so many people!"
"I thought that surely the surgeon would have given me some kind of care manual to refer to…my care manual was the handbook I downloaded from this website!"
— 4hope
Act now to Save on Tripawds Ebook Download
If you know of anyone who might benefit from Three Legs and a Spare send them to the Canine Amputation Awareness Facebook page. Now through February 29, 2012 anyone who likes the page will immediately receive a coupon code valid for $3.00 off the download price.
NOTE: If you have already liked the page but not yet purchased the book, please visit the Welcome tab to get your coupon now.