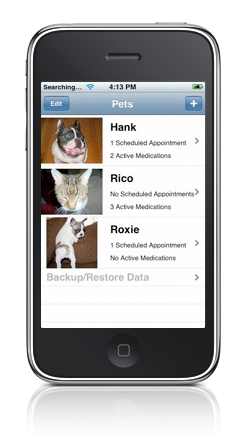 Whether your Tripawd has cancer or not, managing her medical information can be a challenge. If you're one of those lucky dawgs with an iPhone, you should check out this nifty new application that can help keep all of your pet's medical information in one place. We learned about it recently on Mashable.
"Pet Phone makes tracking your pets health needs easy and fun. If you're like us you have piles of old pet bills with your pets history laid out in a complete mess.

Now you can enter everything into Pet Phone and have all the information at your fingertips.

With Pet Phone you track everything from vet visits to weight history to allergies."
Pet Phone even has a weight tracker that creates a graph out of all of your pet's weights, and can alert you when she is under or over her ideal weight (my Mom says she needs one of these!)
Learn more about Pet Phone here, or download it for $4.99 on iTunes.