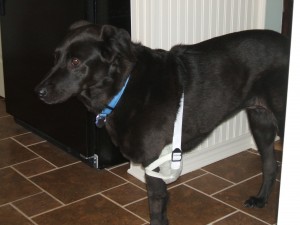 When East Tennessee Gayle developed an infected elbow after her amputation, her mom made a simple protective pad from some shipping foam and elastic tape.
If your Tripawd is developing a sore spot on his or her elbow, download these Homemade Dog Elbow Protector Pad Instructions and see if this helps. If it does, be sure to let us know and don't forget to thank etgayle!
Free Download: etgayle's elbow pad instructions
For those seeking feedback on a professional solution for protecting dogs from developing a hygroma – a swelling of the elbow common in large breed dogs – please review these Tripawds discussion forum search results for DogLeggs.
Additional Resources:
Orthopets: Custom Orthotic Braces and Mobility Devices