Download this important consumer health information about Purchasing Pet Drugs Online, and always remember to buy your veterinary prescriptions from Vet-VIPPS certified web pharmacies when saving money online.
When buying pet medication online, this FDA document states: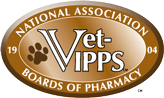 Vet-VIPPS — Veterinary-Verified Internet Pharmacy Practice Sites — is a voluntary accreditation program of the National Association of Boards of Pharmacy (NABP). NABP gives the Vet-VIPPS seal to online pharmacies that dispense prescription animal drugs and comply with NABP's strict criteria, including federal and state licensing and inspection requirements, protecting patient confidentiality, quality assurance, and validity of prescription orders.
When ordering online:
Order from a Web site that belongs to a Vet-VIPPS accredited pharmacy.
Mail or email the prescription provided by your veterinarian to the pharmacy after your pet receives a physical examination.
Order from an outsourced prescription management service that your veterinarian uses.
Buy Safe Online And Save
PetCareRx and National Pet Pharmacy have both received Vet-VIPPS accreditation, so you can feel confident you are getting quality drugs while saving on pet prescriptions and supporting the tripawds community.