A big shout out to Tripawd Hannah, whose comment was randomly drawn as our "Going Rawr" by Maggie Rhines Book Giveaway!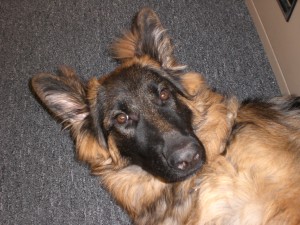 Hannah told us about why she wanted her mom to learn more about raw feeding for dogs:
My mom has always home fed me and my pack mates, but she usually cooks the food, she has started to slowly give us raw bones and raw food because she has read a lot about how it is supposed to be so good for us, but she is concerned about supplements? too much bone? She has so many questions and the on line groups she has joined she has not felt are very helpful at all for beginners.

While I had my leg removed because I was born with a defective rear leg, I don't have cancer, my existing rear leg suffered damage due to a very poor diet when I was a wee baby, my mom is committed to keeping me as healthy as possible so that I can live a long happy pain free life and she feels that diet is one sure way to do that!

She would love to win a copy of this book so that she can be assured that she is doing the best for me and my pack mates.
Well Hannah, now your mom can give you that nutrition you so deserve! Please let us know how it works for you OK? We had a great experience feeding raw and we think you will too.
For everyone else who wants to learn more about Going Rawr!, this book and its value-added tools are an exceptional deal at just $27 or $37, and with an unconditional money-back guarantee if you're not satisfied. Read about what's in the package and get started today!
Going Rawr! is a great tool that teaches you the basics of raw feeding such as:
Tips for easing into a raw food diet
Steps for making convenient raw food meals
How to make a raw dog  food diet more affordable
Which foods are safe, and which can be dangerous
Determining the correct amounts of food for your dog
Basic vitamins, minerals and nutrients that all dogs need, regardless of their age or health status
Save