We just discovered the book, "Heal Your Dog Naturally," by Sara Rooney, a practicing naturopathic doctor in Australia who helps both humans and animals take a science-based, holistic approach toward treating and reversing numerous physical ailments. Although we haven't read it, we like what we see and wanted to share it with you. If you read this book, please let us know what you think.
Treating the Underlying Causes of Health Problems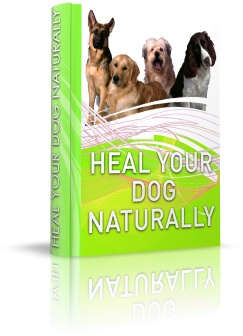 Sara Rooney, a naturopathic physician, research scientist and zoologist reveals the real way your dog can achieve incredible health with "Heal Your Dog Naturally," downloadable e-book.
Imagine:  Feeling a huge sense of achievement that you are treating your dog in the safest way possible, avoiding all toxic drugs (unless they are absolutely necessary) and better still, you are addressing the underlying causes of their health problems – not just giving them drugs to stop their symptoms.
Imagine:  How you will feel when your dog's health problems have totally gone and they are so much happier and able to live longer, more contented lives without any more pain and suffering.
"Heal Your Dog Naturally" author Sara Rooney is a a fully qualified Naturopathic Physician, Zoologist and Research Scientist here in South Australia.  She has helped thousands of pets all around the world through 'Naturopathic Animal Services' (www.animalnaturopath.com.au), and now brings her expertise to you with her downloadable ebook available at HealYourDogNaturally.com.
Here is a sample of what you'll learn when you download your copy:
Easily Identify The True Causes Of Your Dog's Health Problems – Not Just Their Symptoms
How To Cure the Underlying Causes Of Your Pet's Health Problems – So That They Can Be Healed Permanently
Rapidly Reverse Agonizing Conditions Such As Inflamed Skin Disorders, Joint Pain, Yeast Infections, Recurrent Ear Infections And Many Other Common Health Disorders In Your Dog That Cause Them So Much Suffering
How To Stop Relying On Dangerous Steroids That May Shorten Your Dog's Life – Genuine Knowledge To Last a Lifetime
Eradicate The Primary Causes Of Your Dog's Health Problems So You Can Prevent Cancer, Diabetes, Heart Disease, Autoimmune Disorders and Every Other Disease In Your Precious Dog
Save Hundreds Of Dollars In Vet Bills By Treating Your Pet At Home
Learn How To Feed Your Dog Real Food From Home – Rather Than Rely On Expensive, Shop-Bought, Commercial Pet Food That Could Be Driving Your Dog To An Early Grave
Understand How You Can Easily Help Your Dog To Live A Long, Happy And Healthy Life
Eradicate Your Pet's Health Disorders With Tried & Tested Naturopathic Treatment Protocols For Yeast Infections, Joint Pain, Ear Infections, Digestive & Liver Problems, Allergies, Skin Disorders, Diabetes, Autoimmune Diseases, And Much, Much More
In addition, you'll receive three free bonus offers worth $47:
Canine Skin Conditions: Treating Them the Natural Way
Canine Cancer: Treating It The Natural Way
Natural Treats for Dogs: Easy to Make Recipes That Your Dogs Will Love