Tripawds' very own Admin guy recently had the honor of being a guest on the popular Vegas Rock Dog Radio show!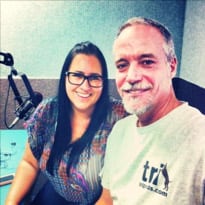 During the hour-long show, he and Sam discussed the history of Tripawds, our Travels with Jerry and new adventures with Wyatt and much more.
They talked about the importance of healthy nutrition and rehab exercises, and they discussed everything from our time at BlogPaws, to recovery from amputation for dogs and cats, ongoing care, and even end of life decisions.
The best part?
Sam was kind enough to provide the audio file for us to share here with the Tripawds community!
The complete show will air on VegasAllNetRadio Saturday, June 07, 2014. In the meantime, you can stream our hacked up version below.
Tripawds on Vegas Rock Dog Radio
Sam from Vegas Rock Dog Radio interviews Tripawds co-founder Jim Nelson to learn about largest online support community for three legged dogs and cats and their people.
This Tripawds Podcast Is Dedicated To:
For all you multitaskers out there, check out the links below for more information about these things mentioned while listening the show!
BlogPaws – Don't miss the wrap-up post from our appearance at BlogPaws 2014 for photos, and a special video. See ya in Nashville at BlogPaws 2015!
Vegas Rock Dog – A big shout out to Vegas Rock Dog and their love of dogs, people and pop culture! Visit VegasRockDog.com for the best Rock 'n' Roll Clothes For Hip Dogs & Humans.
K9 Medicinals – Learn about K9 Immunity and other supplements for dogs with cancer. We believe it helped Jerry love life on three legs for two years!
Orthopets – We have interviewed OrthoPets about how their orthotic braces and prosthetics can help tripawds be more awesome. They were also featured in the Nature episode, My Bionic Pet.
Why We Love Cats and Dogs – This episode of "Nature" which first aired on PBS in 2009 illustrates the bond we share with our animals by documenting our love for Jerry!
Tripawds was not compensated for any of this, we just love spreading the word about stuff we think our members and fans will love as much as we do.