It's an especially touching Memorial Day for the Tripawds Nation;  the June cover of National Geographic Magazine spotlights Layka, a canine amputee hero who survived being shot four times while under fire in Afghanistan yet still managed to attack and bring down the shooter while protecting her handler and fellow soldiers!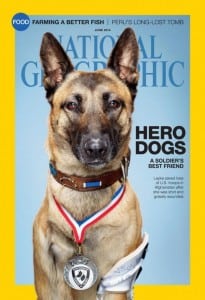 As this video shows, Layka is an incredible hero who has done amazingly well after rehabilitation therapy and adapting to civilian life.  Grab a box of tissues and meet Layka and her handler, then hop on over to read "The Dogs of War," an awesome story about what military working dog handlers and their brilliant canine counterparts.
[youtube]https://www.youtube.com/watch?v=d1NkQhzZXDE[/youtube]
Today and always, we salute all our military heroes, canine and human alike. Thank you for all you do.