Tripawds can do lots of things that four legged animals can do, but it can often come at a cost. Shoulder, neck and hip pain is something most Tripawds will experience just because of their altered gait. Unfortunately dogs and cats are really great at hiding that pain, so it's up to us to recognize pain and learn how to treat it too.
Lucky for us that's what the January 10th edition of Tripawd Talk Radio is all about!
Pain Management Expert Dr. Mike Petty Shares His Best Tips for Life on 3 Legs
Listen to Dr. Mike Petty in this 30 minute podcast and discover ways to determine if your pet is in pain and the treatment options that he feels are worth pursuing. The next half-hour will change your Tripawd's life for the better!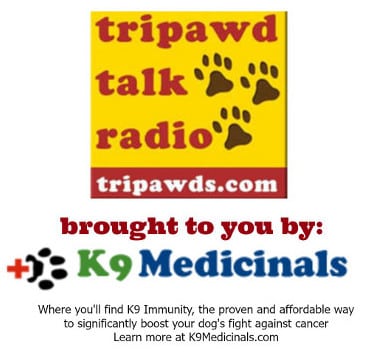 Subscribe to Tripawd Talk Radio wherever you enjoy podcasts.
Dr. Petty is a world-renowned expert on pain management in animals. He's the author of the must-read book, Dr. Petty's Pain Relief for Dogs: The Complete Medical and Integrative Guide to Treating Pain.
He is also the founder and owner of Arbor Pointe Veterinary Hospital and Animal Pain Center, both in Canton, Michigan. In addition, Dr. Petty is the immediate past president of the International Veterinary Academy of Pain Management and the coauthor of the 2015 American Animal Hospital Association Pain Guidelines.