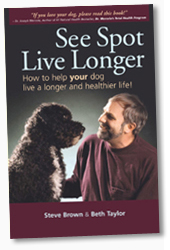 My people want to let you know about this helpful canine nutrition website that discusses the benefits of proper nutrition for your three (or four) legged friend.
Steve Brown, author of "See Spot Live Longer" shares informative articles and downloads about canine health and nutrition on his website, including:
You can also download a PDF about comparisons of different raw diets, and check out his page on how to choose the right treats for your dog.
Steve sells homemmade dog dinner mixes that sound pretty good too, although we haven't tried them yet. Wish we could download them! If you do try them out, let us know what you think.