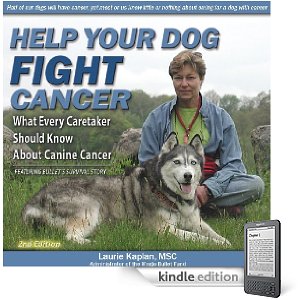 When your dog has cancer, it's easy to become overloaded with information about how to fight the disease. Suddenly you find yourself online for hours at a time, checking out canine cancer websites, looking at medical reports and journals, and wondering how you'll apply all of that information to your own dog's battle.
You'll probably also learn that many of us started our more in-depth research with the book "Help Your Dog Fight Cancer," by Laurie Kaplan. It's an indispensable guide that teaches pawrents:
what dog cancer is
how it's diagnosed
what your treatment options are
how dogs deal with any side effects
what kind of diet to feed your dog
which supplements to take
and how to care for your dog at home, during every stage of the battle.
Laurie wrote this book because her own dog, Bullet, waged a battle against lymphoma. She is also the founder of the Magic Bullet Fund, which provides financial assistance for people who have dogs with cancer but cannot afford treatment. Her website shows a preview of the book, and also has lots of great information.
This book is available for immediate download, on Laurie's website. You can buy a printable copy for $19.95, or a non-printable copy for $10.95.
Or, you can order the original hard copy version, snuggle up on the couch with your furbaby, and read it together!
UPDATE: The Help Your Dog Fight Cancer Kindle Edition is now available for immediate download from Amazon!