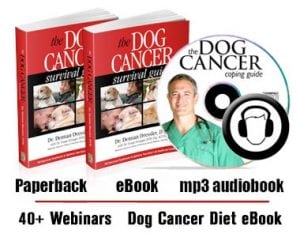 UPDATE: Dr. Dressler's acclaimed e-book is now included in his comprehensive Dog Cancer Kit!
• Paperback
• E-book
• Audiobook
• Webinar
• And More!
• Download Now!
Anyone whose dog has been diagnosed with cancer will find Dr. Demian Dressler's Dog Cancer Survival Guide helpful. The information this acclaimed veterinarian reveals has already helped thousands of other dogs, and it will help you sort through all the options available and create a Full Spectrum Cancer Care plan.
Dr. Demian Dressler, DVM, also known by clients and colleagues as the "Dog Cancer Vet," has been deep in the trenches of canine cancer for more than a decade. Deeply disturbed by the skyrocketing cancer rates in man's best friend, Dr. Dressler has been dedicated to finding cancer treatments that really work in real dogs.
He has discovered treatments that go far beyond chemotherapy, radiation, and surgery. And he shares these solutions in the Dog Cancer Survival Guide now available for immediate download.
"The Dog Cancer Survival Guide will empower you to truly help your dog by becoming your dog's Primary Health Advocate beginning the moment you download this e-book."
Here is just a sampling of what you will find in The Dog Cancer Survival Guide:
Success Stories With Unexpectedly Good Results
Covers All the Major Types of Canine Cancers
Beyond Chemotherapy, Radiation and Surgery
Supplements to Ease the Pain and Soothe the Stomach
Causes of Cancer in Dogs and How to Help Prevent It
And Much More!
But don't take our word for it. Read Jerry's detailed review and see testimonials from other readers! The complete guide and video download normally costs $99.00 but is available for a limited time at just $47.00 and includes these free bonuses.
Dr. Dressler is so confident you will be pleased with the information found in his Dog Cancer Survival Guide, he offers a 60-Day 100% money back guarantee.
UPDATE: This comprehensive e-book has been completely revised to include 400+ pages filled with the latest information about conventional treatments and helpful holistic therapies that anyone with any budget can pursue – rewritten together with board certified veterinary oncologist Dr. Susan Ettinger. Now available in paperback too!