Canine nutrition is mind-boggling enough, but when you're dealing with cancer its even more confusing. Cutting through the maze of holistic and traditional therapies can seem overwhelming, but it doesn't have to be that way.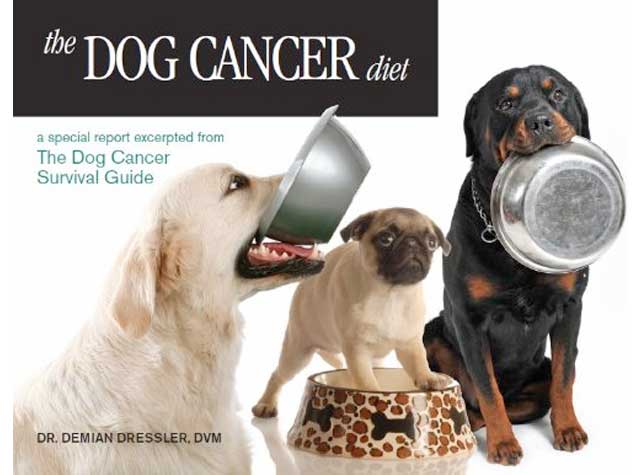 Dr. Dressler's new and free Dog Cancer Diet handbook is a 75-page guide to feeding your dog right after a cancer diagnosis. This free download covers:
Why most dog food should not be fed to a dog with cancer
The hidden ingredients in your dog's food that should be omitted
How to switch your dog to a dog cancer diet, and why you should take it slow
The best foods to feed your dog with cancer, and why they're so helpful
Step-by-step instructions for preparing a meal for your dog, so that each food gives optimal benefit to fight cancer or boost the immune system.
Who's Doctor Dressler?

We talk about Dr. Dressler a lot here, because we love his advice and it helped us when we coped with Spirit Jerry's bone cancer. Dressler is one of the world's most knowledgeable and forward-thinking veterinarians specializing in canine cancer. He is the author of one of the best books on canine cancer, the Dog Cancer Survival Guide e-book. It's a pawesome guide to coping, what to expect, and the traditional and holistic options available for treating the disease, in plain English.
His free Dog Cancer Diet download is an excerpt from his Survival Guide e-book.
UPDATE: Dr. Dressler's acclaimed e-book is now included in his comprehensive Dog Cancer Kit!
• Paperback
• E-book
• Audiobook
• Webinar
• And More!
• Download Now!