In January, 2010, Fortis was diagnosed with osteosarcoma, and told by his vet that he wasn't a good candidate for amputation. Nine months later, this big hero has proved everypawdy wrong!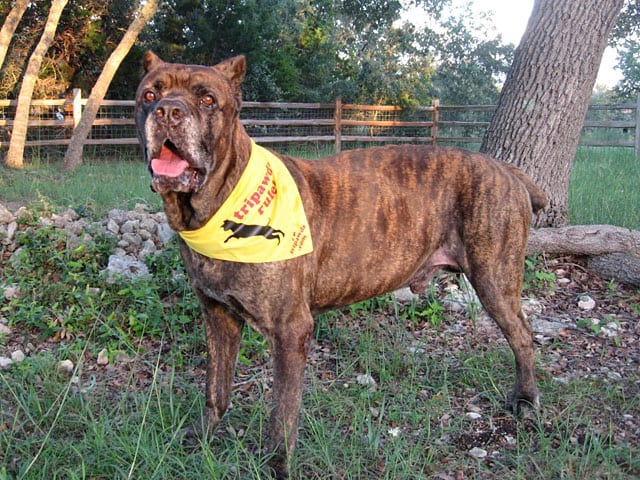 Tripawd Fortis made a beautiful recovery. Something that really helped him was regular animal acupuncture and chiropractic care. Fortis' dad, Brett, said that life on three legs wasn't without mobility challenges.
"I could visibly see the curvature in his spine and it seemed to be causing him discomfort and only getting worse. He had injured his knee shortly after his surgery and this seemed to make the problem worse. I was looking for anything that might help strengthen his remaining leg and maybe give him a little more mobility as well as comfort . . . I really think they (acupuncture and chiropractic treatments) have made a difference."
According to the American Chiropractic Veterinary Association (ACVA), "Most animals accept both the exam and adjustment without signs of pain." Here's a great video that explains more:
[youtube]http://www.youtube.com/watch?v=gvHI-7LAsUE[/youtube]
Take a look at this hands-on chiropractic exam:
[youtube]http://www.youtube.com/watch?v=dJKJANF8528[/youtube]
If your Tripawd is showing any signs of lameness and you want to see if she can benefit from chiropractic care, look for a ACVA-certified veterinary professional in your home town.
You can also read about chiropractic care from our friends Calpurnia and Molly.
Then, follow up on your Tripawd's chiropractic care by learning some basic chiropractic techniques yourself, with "The Well Adjusted Dog: Canine Chiropractic Methods You Can Do."

A reader review says:
"Good, thorough explanation of chiropractic in relation to dogs. Good illustrations that help you understand the mechanism of the adjustment. As a chiropractor, I appreciate the detail Dr. Kamen goes into regarding adjustments; however, the typical dog owner may not be able to identify serious medical conditions that would be aggravated by performing a chiropractic adjustment versus a simple malalignment or "subluxation" that would respond very well. Good basic book to look at if you're thinking of taking your dog to an animal chiropractor. Great book to understand what it's all about and how your pet may benefit."
Has your Tripawd benefited from chiropractic care? If so, we'd love to hear more stories about how it did (or didn't) work. Please share their experiences below, or in our Tripawds Hopping Around Discussion Forum Topic!