The shock of knowing that your beloved dog needs an amputation is upsetting, stressful and frightening. When faced with having to remove a leg, you need answers, and you need them fast.
Download Three Legs And A Spare:
Save on two helpful e-books with the Tripawds Library Bonus Package for complete amputation recovery and care information!
Don't have time to search the Tripawds News Blog and Discussion Forums for answers? Now you don't have to – all the best information we have to offer is now available in the world's first comprehensive e-book about canine amputation. [Jump to Download]
Three Legs & a Spare: A Canine Amputation Handbook is a fully interactive PDF including the best tips and advice from more than five years of compiling Tripawds community resources for amputee dogs and their people.
Find All the Best Canine Amputation Advice, Now.
Since 2006, Tripawds has been the world's leading resource for those facing amputation for their dogs. Whether you're coping with a bone cancer diagnosis, a sudden accident, a fracture that wouldn't heal or a congenital birth defect, the Tripawds community offers the best tips and advice about surgery, recovery, bone cancer treatments and life on three legs.
Three Legs and a Spare is the first in a series of helpful Tripawds e-books. This 110-page interactive PDF is a collection of the best advice from more than 3,000 Tripawds community members. With hundreds of informative links, Three Legs & a Spare will save you time and provide immediate answers to your questions.
Quickly find information about common concerns such as:
Canine amputation surgery costs
How to decide if amputation is right for your dog
Preparing yourself, your dog and your home
Pre-amputation questions to ask your vet
Post-surgery pain management strategies
Common amputation recovery scenarios, and how to handle them
Three Legs & a Spare presents the most enlightening answers from thousands of Forum Discussions, and hundreds of News Blog posts, as well as individual member experiences from their own three legged dog blogs.
Download Free Sample Pages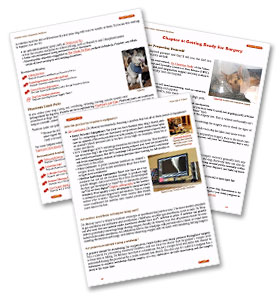 To see an example of the valuable information within Three Legs & a Spare, download these sample pages. You can then review the entire table of contents to see what the e-book has to offer. We've also included a few random pages with links to specific forum posts, informative videos, and much more.
This fully interactive PDF about canine amputation addresses bone cancer treatment options, rehabilitation and physical therapy tips, and spotlights helpful Tripawds gear suggestions and nutrition tips that can help make your pup's life easier.
More than five years in the making, Three Legs & a Spare is packed with links to videos, news, forum topics and other specific sections of the Tripawds community where you can continue your discussion with members in real time.
Get Free Bonus Worksheets
Download the book today, and you'll get these free tear-out worksheets:
Information to leave with your Tripawd's caregiver
A daily regimen worksheet to chart diet, medications and exercise
Three pages of important questions you can take to the vet
The Newest Information Always at Your Fingertips
The best part about this e-book is that it's a constantly evolving resource. As new information about canine amputation and bone cancer becomes available and older conclusions become outdated, we will update the PDF so it is always includes the most current information. Once you purchase Three Legs & a Spare you will be able to download the file up to five times any time in the future.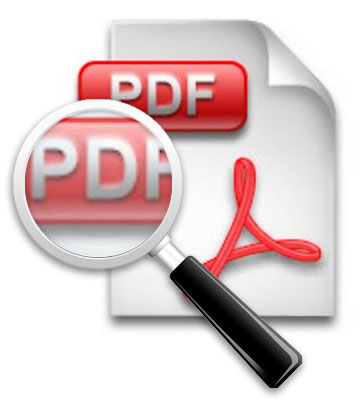 With a completely indexed two-page Table of Contents, and full search capability, this interactive PDF saves you the time and effort of searching thousands of posts in the Tripawds discussion forums and member blogs. You will find direct links to specific posts and every page includes a link back to the index, and the Tripawds forums, to facilitate your research.
This is the first in a series of resourceful Tripawds e-books. Stay tuned for more downloadable e-book resources about bone cancer, rehab therapy, and hospice care. For now, if you're in a hurry and looking for fast answers about coping with canine amputation, we believe this downloadable PDF has the answers you are looking for.
Satisfaction Guaranteed

If you are not completely satisfied with the helpful resources and links in Three Legs & a Spare just let us know within fourteen days of your purchase. We will refund your money and you get to keep the eBook!
Click the Buy Now button below to immediately download Three Legs & a Spare, then read it whenever you can. You don't even have to be online to do so!
NOTE: Please be sure to save the PDF to your hard drive when viewing on an iPad as it will load in your browser by default and there is a limit of 10 downloads!
Download Three Legs And A Spare:
Or… get two helpful Tripawds e-books and Save!
Download Tripawds Ebook Library:
NOTE: You will be redirected to PayPal to complete a secure transaction. You will then receive an email with the link to download your e-book, and an order ID for future reference. If you do not get this email within 2 hours, please check your spam folder.

Be sure to download the file to your hard drive. You will need the free Adobe Reader to view and print the PDF.
---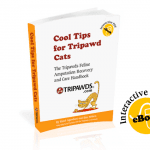 Looking for help for your tri-kitty?

Download: Cool Tips for Tripawd Cats
The first feline amputation recovery and care handbook!
---
Thank You!
We appreciate your purchase and hope you find this e-book helpful. All proceeds help to cover the costs of maintaining the free Tripawds community, and we are grateful for your support.
If you have any questions or suggestions about this book, feel free to contact us and let us know how we can make it better. Please provide your order ID when inquiring about your purchase or check your order status here.
Warmest Regards,
Rene, Jim, Wyatt Ray & Spirit Jerry