Tripawds first ebook, "Three Legs & A Spare," has been out for a few months, and we would love to know what you think of it.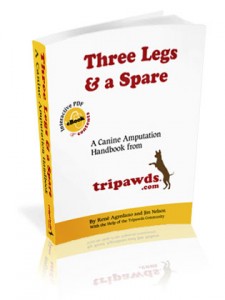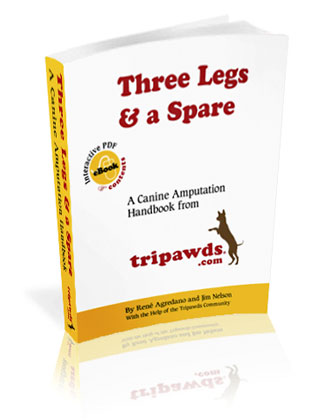 If you've downloaded the book, please share your thoughts below in the Comments section, or here in the Forums. Tell us what you love or don't love, and how we can make it better!
If you haven't heard, "Three Legs & A Spare" is a collection of our best information about canine amputation and life on three legs, from the last four years of Tripawds.com.
The book is an interactive PDF with new content and direct links to places where you can find more information, now.
Get Answers Now

If you're about to go through the amputation experience, or just did, and don't have time to search through our Discussion Forums or pour over our Required Reading List, we recommend downloading it today.
As the world's first comprehensive e-book about canine amputation, "Three Legs & A Spare" helps you quickly find information about common concerns such as:
Canine amputation costs
How to decide if amputation is right for your dog
Preparing yourself, your dog and your home
Amputation questions to ask your vet
Post-surgery pain management strategies
Common amputation recovery scenarios, and how to handle them
Read more about this comprehensive e-book here or click the Buy Now button below for immediate download. And if you do decide to purchase it, we'd love to hear your feedback and suggestions, so please feel free to share your thoughts here in the Tripawds Discussion Forums.
Download Three Legs And A Spare:
Download Loving Life on Three Legs:
Download Tripawds Ebook Library: