If you ever miss an episode of Tripawd Talk Radio you can download MP3 audio of any archived shows.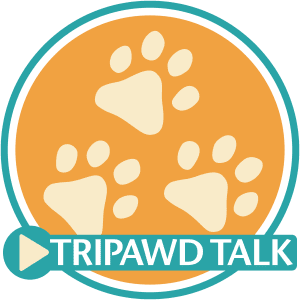 Tripawd Talk is the new live internet radio call-in show hosted by Jim & Rene, and Wyatt Ray. Subscribe to Tripawd Talk on iTunes or subscribe to the Tripawd Talk forum to be notified of upcoming episodes. That's where you can also post questions for our special guests.
Tune in for the best amputation recovery information for three legged dogs and their people.
Upcoming shows will feature more interviews with Tripawds members, as well as talks with veterinarians and specialists – like this week's show with Veterinary Oncologist Dr. Johnny Chretin.
We will be adding a Radio page to the News Blog soon.
DISCLAIMER: Information provided at Tripawd Talk Radio and Tripawds.com is not a substitute for medical care by your personally selected, qualified veterinary professional. Always seek the advice of a licensed veterinarian prior to making any medical decisions or undergoing treatments or therapies, or if you have questions about your dog's health. We advise against any medical decisions made without the direct involvement of your veterinary team. Tripawds.com is a project of Agreda Communications, which is not responsible or liable, directly or indirectly, for any form of damages whatsoever resulting from the use (or misuse) of information contained in or implied by the information available at Tripawd Talk Radio or Tripawds.com.