Dog Cancer Vet Webinar Answers Your Questions
Did you know that each month you can ask the Dog Cancer Vet, Dr. Demian Dressler, questions about coping with your dog's cancer?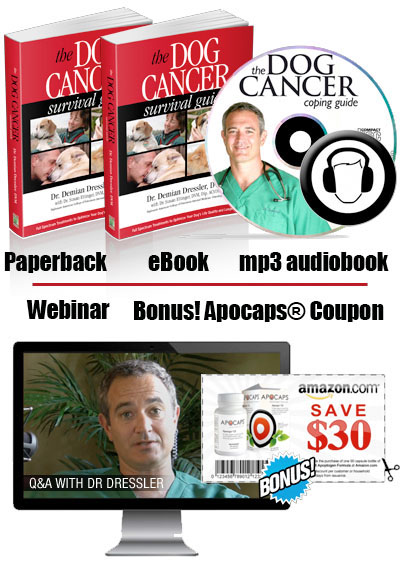 When you purchase the Dog Cancer Kit, you will have access to a monthly live webinar with Dr. Dressler. These webinars typically last about an hour and you can participate via telephone, Skype or listen online.
Best of all, during these seminars you'll have the opportunity to ask Dr. Dressler specific questions about your dog's cancer.  You'll also learn what's new in cancer therapies and how you can apply these therapies to your dog's care.
If you can't be there for the live chat, you can email your questions ahead of time then download the podcast afterward. As a Dog Cancer Kit buyer, you will have access to one year of podcasts filled with valuable information about canine cancer.
What's the Dog Cancer Kit?
Dr. Dressler's Dog Cancer Kit is an essential tool for anyone who has just received the news that their dog has cancer.
Dr. Dressler's famous "full spectrum approach" shares the latest information on both holistic and traditional cancer care therapies.
His downloadable and hard-copy kit includes everything you need when faced with a dog cancer diagnosis:
The Dog Cancer Survival Guide ebook Instant Download ($24.95 Value)
The Dog Cancer Survival Guide paperback book with FREE Delivery to your door in the United States ($34.95 Value)
The Dog Cancer Coping Guide Audiobook MP3 Instant Download ($19.95 Value)
One LIVE Webinar with Dr. Dressler – Ask questions about your dog. Attend live and/or listen to recording ($27.00 Value)
12 months of recordings from the last year of "Ask the Dog Cancer Vet" Webinars with Dr. Dressler ($195.00 Value)
$30 Instant Cash Coupon good off your first purchase of Apocaps® at Amazon.com ($30.00 Value)
Total Value: $331.85
Your Price: (Regular Price: $147) Now: $97
Order your Dog Cancer Kit Here
As you'll read in our Dog Cancer Survival Guide book review, we give three paws up to Dr. Dressler for his approach of embracing all treatment options. Many Tripawds members have followed his suggestions with good results, and we're confident you'll find lots that can help you during your own journey too.