If you missed yesterday's entertaining episode of Tripawd Talk Radio with "America's Veterinarian" Dr. Marty Becker, here is your chance to listen to the show below or download the 30 minute podcast.
In this 7/15/12 episode, you'll learn about:
Tripawd Cats: what to ask your vet before and after surgery, amputation recovery tips and even how to practice good oral hygiene on your cats.
The importance of finding a veterinarian who practices modern pain management
Coping with chronic pain in cats and dogs
and more!
Hear Dr. Marty on Tripawd Talk Radio, then be sure to check out the growing list of animal health books he has written!
ABOUT DR. BECKER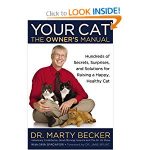 For 16 years, Dr. Becker has been the popular veterinary contributor on ABC's Good Morning America. He is a founding member of The Dr. Oz Show's Core Team Oz and a member of the Dr. Oz Medical Advisory Panel. In April 2012, the World Small Animal Veterinary Association named him the recipient of their annual WSAVA Hill's Excellence in Veterinary Healthcare Award (also known as the Global Companion Animal Veterinarian of the Year).
His latest book, Your Cat: The Owner's Manual: Hundred of Secrets, Surprises, and Solutions for Raising a Happy, Healthy Cat (Grand Central Life & Style) was published in May, 2012. Its bestselling companion, Your Dog: The Owner's Manual, is now out in paperback. He has written more than 20 books in all, including Chicken Soup for the Pet-Lover's Soul, the fastest-selling pet-related book in history, and The Healing Power of Pets, a best-seller that's still one of the most popular pet books in print. He has been a contributor to Parade magazine, Reader's Digest and AARP.com.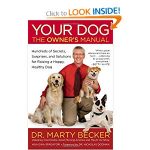 Dr. Becker is an adjunct professor at his alma mater, the Washington State University College of Veterinary Medicine, and also at the Colleges of Veterinary Medicine at both Colorado State University and the University of Missouri.  Additionally, he has lectured at every veterinary school in the United States, and has been named Companion Animal Veterinarian of the Year by the Delta Society and the American Veterinary Medical Association.
He practices, when his schedule allows, at two veterinary hospitals in north Idaho because he loves veterinary medicine, pets and the people who care for them.
Looking for the Tripawds Podcast?