Tripawds' new and improved second edition of Three Legs & a Spare is now available! Click the Buy button below to download now or read on for more information.
Download Three Legs And A Spare:
Tripawds e-book Now in its Second Edition
If you are faced with the difficult decision of limb amputation for your animal companion, this indispensable guide will help you by presenting critical decision-making information such as:
How to decide if amputation is right for your pet
Pre-amputation questions for your veterinarian
Pain management information and tips
Preparing your home for a new tripawd
Amputation recovery side effects, and how to handle them
What to expect during your Tripawd's lifetime
Three Legs & a Spare is an interactive PDF you can download and read offline that features the most enlightening answers from hundreds of discussion forum topics, and numerous Tripawds News Blog posts, in addition to many individual member experiences from their own three legged dog blogs.
The book is geared toward dog pawrents, but cat lovers will find help inside too. Feline Tripawds are just now starting to join our community, and we hope to add even more Tripawd kitty information in future editions.
"The Tripawds e-book "Three Legs and a Spare" was instrumental in helping us prepare for Sean's surgery."
— Sondra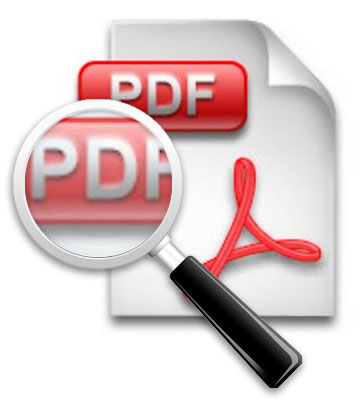 With a completely indexed two-page Table of Contents and full search capability, this interactive PDF saves you the time and effort of searching for answers. You will find direct links to specific Tripawds blog posts, popular forum topics and informational videos. Every page includes a link back to the index and to the Tripawds forums, where you can discuss your specific situation with members in real time.
Get Amputation Answers, Fast
When your vet gives you the bad news that your dog or cat needs a leg removed, you need answers fast. The Tripawds community has more than six years of information ready for you to dive into, or you can obtain it even faster by reading Three Legs & a Spare, the world's first and most comprehensive e-book about animal amputation, written just for pet parents.
You'll get lots of information quick, with plenty of links to the most common questions and answers about caring for a three-legged dog or cat. The book is filled with helpful links that take you directly to the most informative news about caring for animal amputees.
"I thought that surely the surgeon would have given me some kind of care manual to refer to…my care manual was the handbook I downloaded from this website!" — Barb
Save time spent searching for answers. Download Three Legs & a Spare now!
Download Three Legs And A Spare:
The Best Amputation Resource
Tripawds is the world's leading resource for pet parents facing amputation for their dog or cat. Whether you're coping with a cancer diagnosis, a sudden accident, a fracture that won't heal or a congenital birth defect, the Tripawds community offers the best tips and advice about surgery, recovery, cancer treatments and life on three legs.
Three Legs & a Spare is the first in a series of helpful Tripawds e-books. This 110-page interactive PDF is a collection of the best advice from more than 8,000 Tripawds community members and Facebook friends. With hundreds of informative links, this dog amputation handbook will save you time and provide immediate answers to your questions.
 "Excellent helpful information contained there. I bought the book and it was worth it." — Janet
Review Before Buying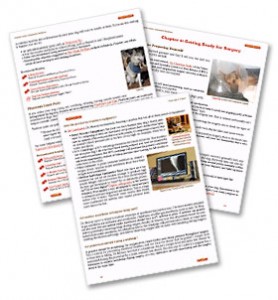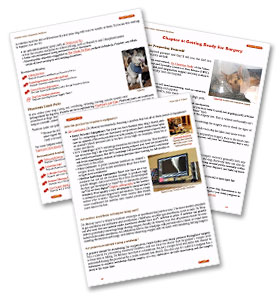 We want you to be confident in your decision to buy Three Legs & a Spare. See  these sample pages for examples of valuable information found inside, and review the entire table of contents to see what the e-book has to offer. You can even read a few random pages with links to specific forum posts, informative videos, and much more.
Three Legs & a Spare is written just for pet parents who are in the process of deciding if amputation is the best decision for their animal, but current Tripawds pawrents will also find it useful. The book shares information about recovery, bone cancer treatment options, rehabilitation and physical therapy tips, and spotlights helpful Tripawds Gear suggestions and nutrition tips that can help make your Tripawd's life easier.
"I did download the book a little while ago and have just been pouring through it. Wish I'd had it *before* the surgery . . . what a great book to help people deal with all this." – Jackie
Enjoy Free Bonus Worksheets
Your purchase of Three Legs & a Spare includes free printable worksheets:
Information to leave with your Tripawd's caregiver
A daily regimen worksheet to chart diet, medications and exercise
Three pages of important questions you can take to the vet
This e-book is a constantly evolving resource. As new information about canine and feline amputation becomes available, we will update the PDF. Once you purchase the book you will be able to download it up to ten times, any time in the future.
This is the first in a series of resourceful Tripawds e-books. Stay tuned for our next e-book discussing rehabilitation therapy for dogs, coming soon!
"We ordered your e-book the night Molly had her amputation. What a great gift. I only wish the veterinarian who did the amputation had this e-book to give us. As is, we learned so much. — Bob & Kris
Satisfaction Guaranteed
We know you'll find this book helpful but if for some reason you are not completely satisfied, just let us know within fourteen days of your purchase for a full refund.
Click the Buy Now button below to immediately download Three Legs & a Spare, then read it whenever you can. You don't have to be online to do so.
iPAD USERS: Please save the PDF to your hard drive.
Viewing on an iPad will load the file in your browser by default and there is a limit of 10 downloads!
Download Three Legs And A Spare:
Save time and money with both of the first two Tripawds e-books at one low price!
Download Tripawds E-book Library:
NOTE: You will be redirected to PayPal to complete a secure transaction. You will then receive an email with the link to download your e-book, and an order ID for future reference. If you do not receive this email, please check your spam folder.
---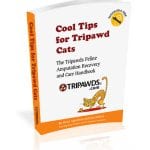 Looking for help for your tri-kitty?

Download: Cool Tips for Tripawd Cats
The first feline amputation recovery and care handbook!
---

Be sure to download the file to your hard drive. You will need the free Adobe Reader to view and print the PDF.
All proceeds help to cover the high costs of maintaining the free Tripawds community. We are grateful for your support.
Thank You Tripawds Families
This book is made possible thanks to the thousands of members who have contributed to the discussions at Tripawds.com.
With each new story and experience shared in our community, we can make this journey just a little easier for new Tripawds parents.
Got ideas for the book? Your feedback is appreciated. Contact us and let us know how we can make it better. Please provide your order ID when inquiring about your purchase or check your order status here.
Hoppy Reading!
— Rene, Jim, Wyatt Ray & Spirit Jerry