Here at Tripawds our favorite motto is "Be More Dog." If you're not familiar with this way of thinking, the following podcast of our 2012 Greyhounds Rock Take a Bite Out of Canine Cancer keynote address will enlighten you. But in brief, here's what being more dog means:
How to Be More Dog (Or Cat)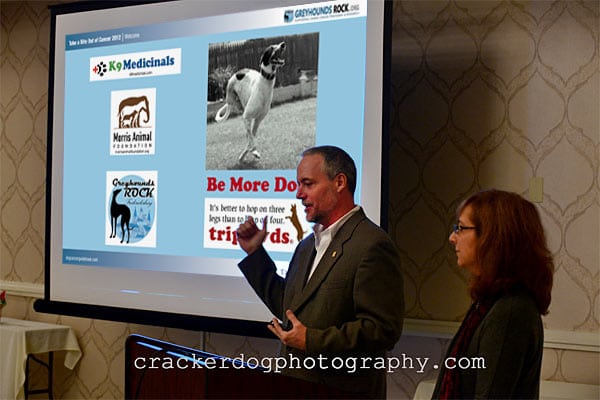 Getting through some of the hardest times in life is easier if you stay focused on the moment right in front of you. While your head might be spinning with all of the treatment options, the "should haves" and "what ifs," pause to take a careful look at your dog or cat.
Your pet isn't sitting there feeling sorry for herself. While she might feel poorly because of disease, she's not mad at you, or longing for the way things were. All she wants is for you to breathe, to smile, to be happy and do something fun together, right here at this very moment. Whether that's stopping for a long cuddle session or throwing a ball, all that matters is the moment in front of you, because that's is the only thing that we know we have for sure in this life.
The past is history, the future may never come, but today is a gift, that's why it's called the Present.
This 40 minute keynote address is filled with important tips about coping with amputation recovery, and dealing with a cancer diagnosis. We share the lessons that Tripawds founder Spirit Jerry taught us during our journey together—and we highlight a handful of amazing stories about true Tripawd Heroes. We hope you enjoy it.
Still have questions? We have answers!
Download the Tripawds e-books for immediate answers to common questions and much more helpful recovery and care tips! Just for listening, please use Coupon Code BEMOREDOG5 for $5 Off!

What About Tripawd Cats?
Download Cool Tips for Tripawd Cats for fast answers to common concerns about feline amputation.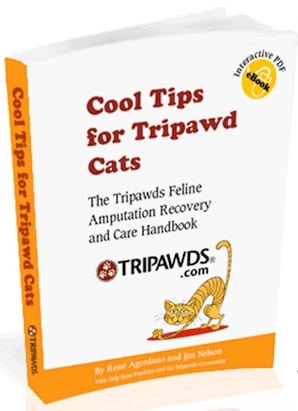 Get vital information about recovery and rehab, plus plenty of recommendations to help your cat love life on three legs – from the best nutrition to tips for making a Tripawd-friendly litter box, and much more!