As Bosco's people are learning, recognizing pain symptoms in our dogs and cats is challenging. Thankfully advances in veterinary pain management are making it easier than ever for all of us to recognize pain.
Did you know that until the mid 1980s, most veterinarians were taught that animals didn't feel pain the same way that humans do? They were also taught that pain medication would hinder recovery, because the animal would theoretically harm itself when it felt better and move around too much. What a relief that these theories have been debunked and now we know that animals feel pain like humans do, and need appropriate pain relief to heal faster.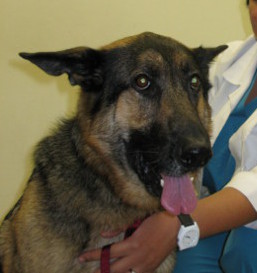 When an animal is in pain, their body language, facial expressions and behavior is noticeably different.
Whining, trembling and sudden guarding behavior are all indicators that something is wrong.  It's important to investigate any changes like this early on; if acute pain isn't treated right away, the chances of it turning into a bigger, ongoing chronic issue are far greater.
How to Recognize Pain in your Dog or Cat
The following PDF download is an article from March 2012 that was published in the peer-reviewed journal, Today's Veterinary Practice.
This article written by Anusha Balakrishnan, BVSc, and Elana Benasutti, CVT explains in detail how pain is assessed, what it looks like and provides suggestions to vets for managing pain. It's a clinical article but one that the layperson can understand. We hope you find it useful: