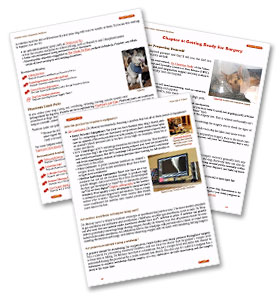 When you want all of your canine amputation recovery and health questions answered fast, this Tripawds Library Bonus Package gives you a complete education about life on three legs.
Purchase your download below to start studying in minutes or read on for complete details about what's included in this special offer.
Download Tripawds Ebook Library:
---
Tripawds E-books: Buy Two and Save!
Whether your dog is facing limb amputation because of illness or accident, you are thinking about adopting a fully-grown canine amputee, or you just want to keep your current three legged dog healthy and strong, this Tripawds Library Bonus Package is for you! Featuring both Three Legs & a Spare and Loving Life on Three Legs, this indispensable resource is packed with more than 225 pages of helpful information for your amputee dog education.
SAVE and get FREE BONUS MATERIAL
when you buy both books at the same time!
Tripawds 101: Three Legs and a Spare
When coping with an amputation for your dog, you need answers, and you need them fast. Three Legs & a Spare will help you prepare for your best friend's new life on three legs.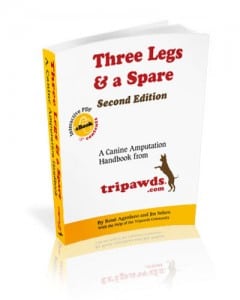 Three Legs & a Spare: A Canine Amputation Handbook features the best tips and advice from more than six years of compiling Tripawds community resources about canine amputees.
This 110-page interactive PDF contains the best advice from more than 5,500 Tripawds community members. With hundreds of informative links, Three Legs & a Spare will save you time and provide immediate answers to your questions.
Quickly find information about common concerns such as:
Canine amputation surgery costs
How to decide if amputation is right for your dog
Preparing yourself, your dog and your home
Pre-amputation questions to ask your vet
Post-surgery pain management strategies
Common amputation recovery concerns, and how to handle them
Three Legs & a Spare presents the most enlightening answers from thousands of Forum Discussions, and hundreds of News Blog posts, as well as individual member experiences from their own three legged dog blogs.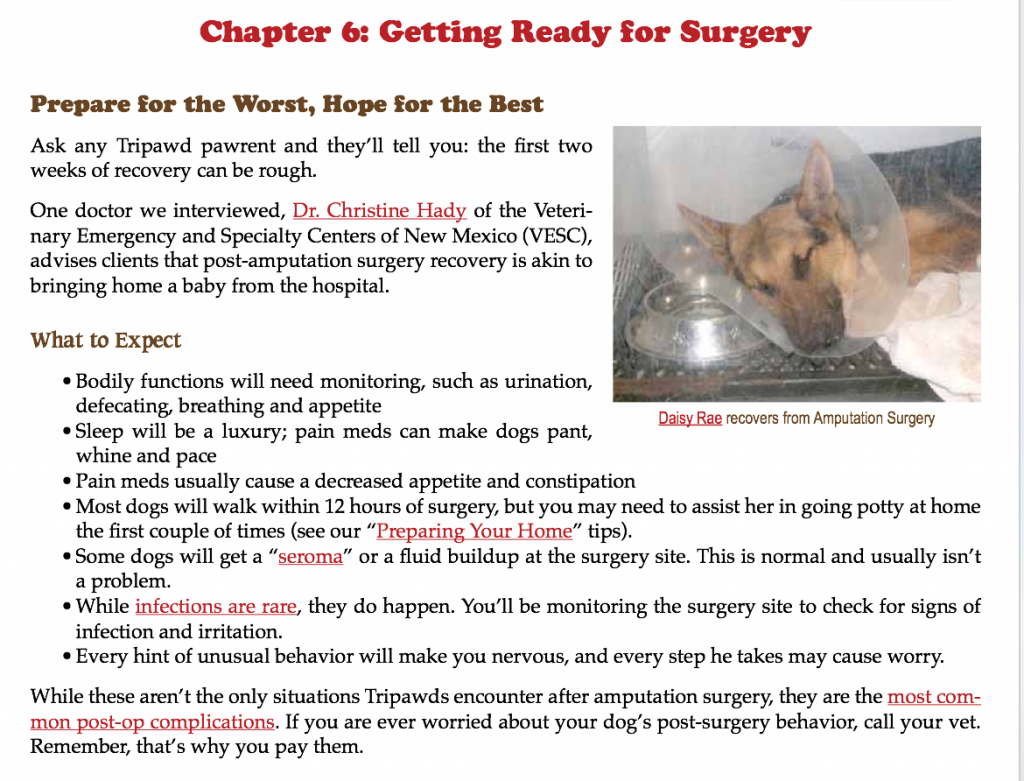 Tripawds 201: Loving Life on Three Legs
Nearly six years in the making, Loving Life on Three Legs: Canine Fitness and Conditioning for Happy, Healthy Tripawds is the second e-book in the Tripawds Library Bonus Package.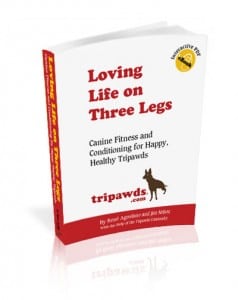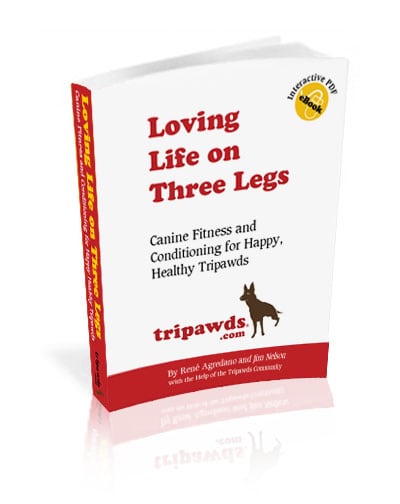 This second phase of your Tripawds education is all about maintaining good health and fitness for canine amputees. Help your dog live a long happy life with information from veterinarians and certified vet rehab therapists, along with hundreds of direct links to articles, forum topics, interviews and how-to videos for exercises you can do at home.
In this 115-page interactive PDF we share critical information that every Tripawd parent should know, including helpful tips about things like:
Preparing for your "new normal"
Surgery recovery and pain management
Why strong core muscles prevent injuries
Canine rehabilitation therapy basics
Finding a qualified rehab therapy program
Do-it-yourself stretching, massage, and exercises.
Diet, supplement and nutrition basics
Keeping the golden years golden
Case studies of dogs loving life on three legs
And much more!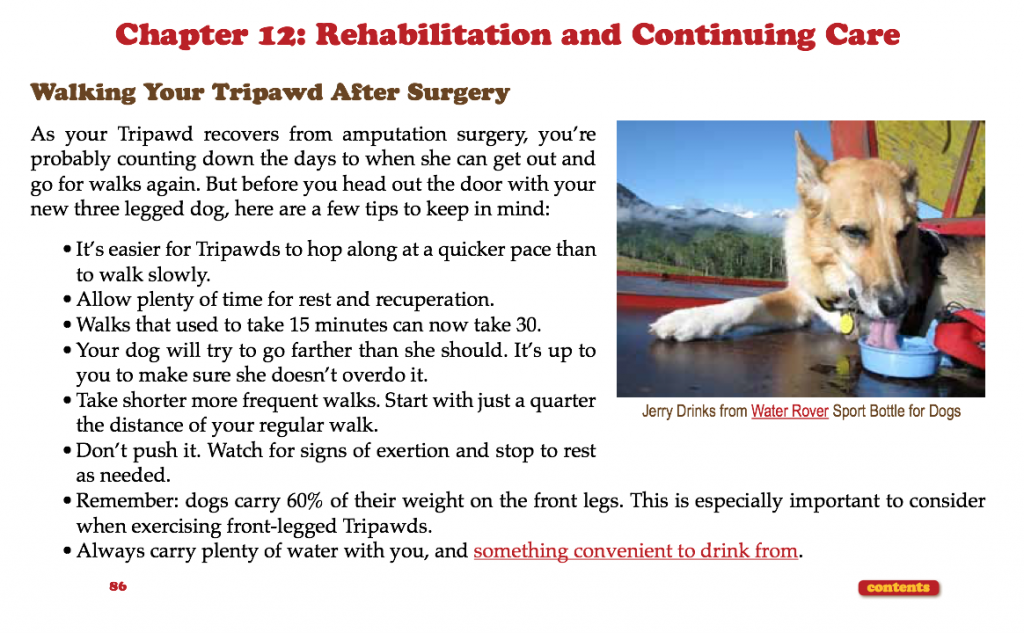 Class is in Session
Are you ready to get your Tripawds diploma? Download both books today and you also get:
Tripawd Caregiver/Petsitter Instructions
New Tripawd Daily Treatment Regimen
Important Veterinary Questions
Exercise Routine Worksheet
Dog Diet Plan & Nutrition Worksheet
Purina Body Conditioning Chart Printout
Plans for building your own homemade Buja Board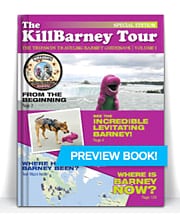 Each e-book includes hundreds of direct links to the most informative Tripawds blog posts, forum topics, interviews and how-to videos. This Tripawds Library bonus offer combines both books in one document you can read offline!
Save on fun Tripawds Stuff Too!
Download Tripawds Ebook Library:
---
Or, purchase these vital resources individually…
Download Three Legs And A Spare:
Download Loving Life on Three Legs:
---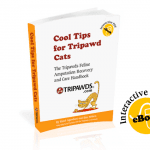 Looking for help for your tri-kitty?

Download: Cool Tips for Tripawd Cats
The first feline amputation recovery and care handbook!