We give lots of praise to The Dog Cancer Survival Guide because it's such a great resource for anyone whose dog has just been diagnosed with canine cancer.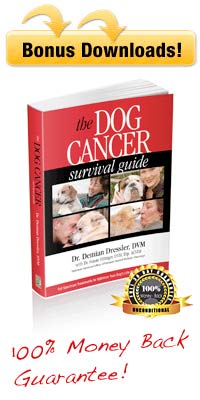 And now you can win a free copy of your own. Read on for details.
Learn How to Cope With Canine Cancer
Many good books have been written about helping your dog fight cancer, but we feel that The Dog Cancer Survival Guide is the definitive resource for coping with this dreaded diagnosis.
It's the only help guide about canine cancer that's written for the layperson. Created by a veterinary oncologist and cancer specialist, together they do an excellent job explaining how to:
mentally prepare yourself for what's ahead
learn exactly what you need to know about canine cancer to make informed decisions that you can afford
select appropriate, beneficial treatments for your Tripawd with qualified veterinary teams
how to approach the cancer battle in order to save your sanity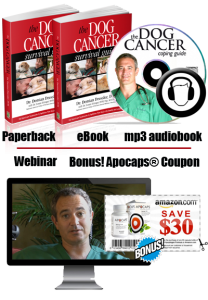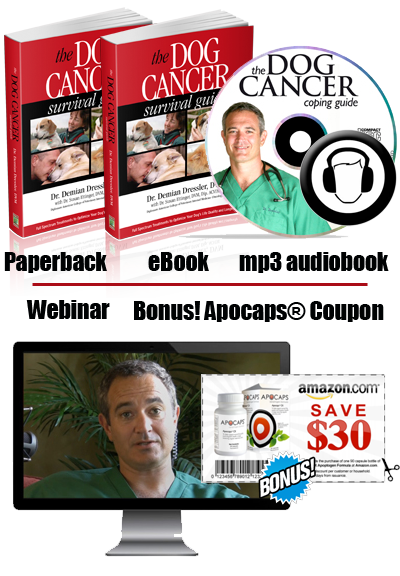 Even better, the Dog Cancer Survival Guide is available in both print and e-book versions. Both are also included in The Dog Cancer Survival Kit, which includes:
The Dog Cancer Survival Guide in print and electronic versions
The Dog Cancer Coping Guide Audiobook Download
Apocaps Instant Cash Coupon
Webinars and Q&A Sessions with the authors, Drs. Dressler and Ettinger
Whether you try the The Dog Cancer Survival Guide by itself or get even  more help with The Dog Cancer Survival Kit, you'll be informed and better prepared to cope with the road ahead.  We can't recommend it enough.
Win a Free Copy of the Dog Cancer Survival Guide
We have one free hard copy of the Dog Cancer Survival Guide and we'd like to give it to one lucky Tripawd pawrent. All we ask in return of the winner is that it gets re-posted in the Tripawds Angel Exchange when you don't need it anymore.
And now, the details you've been waiting for:
To enter this contest, go to the comments field below and
tell us about the #1 lesson you've learned about coping with dog cancer (so far).
The deadline is Thursday, January 30 at 11:59pm Pacific time. One lucky winner will be chosen at random on the following day. All entrants must be registered Tripawds Community members in order to qualify.