Results from the recent Tripawds orthopedic survey for Colorado State University's College of Veterinary Medicine and Biomedical Sciences are in and the preliminary conclusion is: both front and rear limb amputees "may be" susceptible to future orthopedic conditions at an average of 1.75 years after amputation.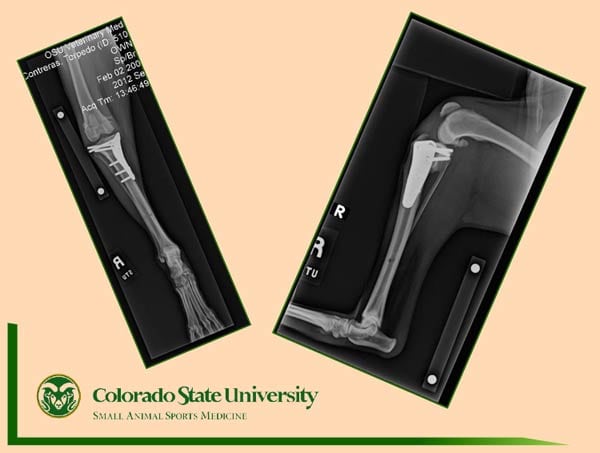 The study, officially titled "Post-amputation Orthopedic Disease in Canine Amputees: Preliminary Results of an Online Survey" was led by Dr. Elena Contreras, DVM MS, who cautions us that "These are just preliminary findings with a very small sample size and a targeted population." She continues performing follow-up work with respondents' veterinarians and says "We'll be putting the findings into a text/document so that we can submit for publication, again with the caveat that these are preliminary findings."
We are honored that in January the study was selected for presentation during the CSU College of Veterinary Medicine and Biomedical Sciences 15th Annual Research Day, which showcases the academic work of 145 aspiring scientists in the department.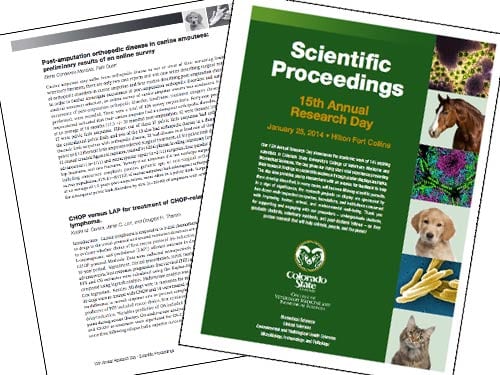 A Closer Look at Post-Amputation Orthopedic Disorders
According to Dr. Contreras, in the veterinary literature, there are only two case reports and one case series describing surgical management of orthopedic disorders in canine amputees. In order to further investigate occurrence of post-amputation orthopedic disorders and surgical and/or medical treatment selection, last Fall she and Dr. Felix Duerr, DVM, DVM, MS, DACVS, DECVS, DACVSMR, conducted this survey in the Tripawds community.
Frequencies of occurrence of post-amputation orthopedic disorder, time frame, treatment category chosen, and surgery performed, were recorded. There were a total of 125 survey respondents. The responses and subsequent preliminary conclusions appeared as follows:
"Thirty eight percent (n=48/125 respondents) indicated that their canine amputee had a subsequent orthopedic disorder, which occurred at an average of 21 months (+/- 28 months; range 1-98 months) post-amputation; 31 were thoracic limb amputees, and 17 were pelvic limb amputees. Fifteen out of these 17 pelvic limb amputees had orthopedic disease in the contralateral pelvic limb, and two of the 15 also had orthopedic disease in a thoracic limb.

Of the 31 thoracic limb amputees with orthopedic disease, 21 had disease in at least one of their pelvic limbs, and 14 reported disease in their contralateral thoracic limb. Eight pelvic and 11 thoracic limb amputees selected surgical treatment, all for pelvic limb disorders, consisting of 10 cranial cruciate ligament ruptures, treated by tibial plateau leveling osteotomy (n=7/10), tibial tuberosity advancement ( n=1/10) and extracapsular repair (n=2/10) surgeries, four patellar luxation surgeries, three hip luxations, and two fractures. Ninety-two percent (n=11/12) of those available for follow-up, were very pleased with surgery and would recommend it. Twenty-nine amputees did not undergo surgery, due to various factors including concurrent neoplastic process, geriatric age, or non-surgical and/or non-catastrophic orthopedic conditions.

In this survey population, 38% (n=48/125) of canine amputees had subsequent orthopedic disease which occurred at an average of 1.75 years post-amputation, more often in a pelvic limb. Surgery was selected as treatment for subsequent pelvic limb disorders by 40% (n=19/48) of amputees with orthopedic disease, and recovery was overall considered good.
More Amputee Orthopedic Research to Follow
Again, please keep in mind that this is a very preliminary survey conclusion and Dr. Contreras continues to pursue this area of study for future use in orthopedic disease management of Tripawds.
And remember, generous support of veterinary clinical research is key to helping our Tripawds lead healthier lives. Giving generously to organizations like Colorado State University's College of Veterinary Medicine and Biomedical Sciences will help accomplish this goal.
If you would like to donate or contribute directly to ongoing work in this specific area, please

contact Dr. Contreras directly at this email address

, as they are seeking financial support for further amputee research in the upcoming years.
We extend a sincere "Thank you" to Drs. Contreras and Duerr and all Tripawds members who participated in this landmark study. Stay tuned for more important studies led by the Tripawds Nation!