When we get a pet cancer diagnosis from the vet, one of the first things many of us do is research the best kind of dog and cat cancer diets. And those of us who have dealt with it in the past want to know how to prevent cancer with nutrition.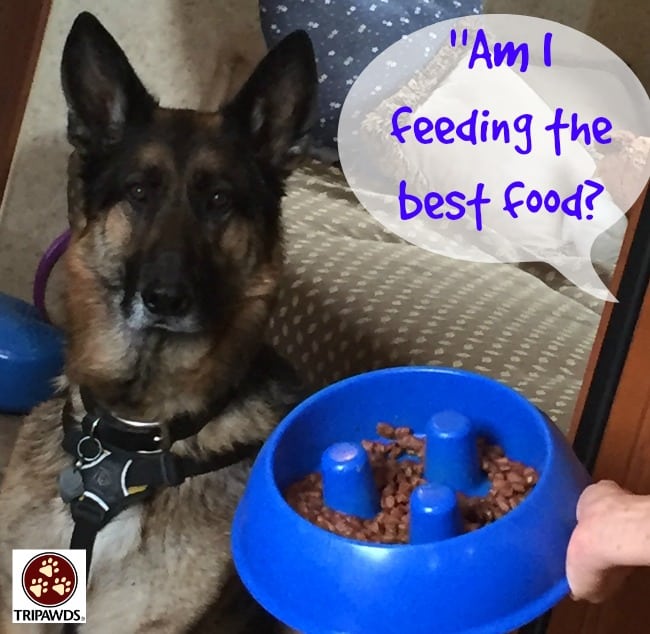 We want to know:
What foods can help keep our dog or cat strong through chemotherapy?
Can we use human foods to boost appetite during cancer treatments?
What foods are not safe to feed our dogs and cats undergoing cancer treatment?
And on it goes. Our brains are filled with so many questions we think our heads will explode!
It's easy to lose sight of what's fact-based, what's anecdotal evidence and what's a little of both. The reality is, there is no one-size-fits-all diet for dogs and cats with cancer. Look for veterinary nutritionists who can develop a cancer fighting diet tailored to your pet's needs. They're hard to find, but they're out there and many will consult long-distance. See: The American College of Veterinary Nutrition.
Whatever you do, talk to your vet about any nutrition changes you're thinking of making. If your dog or cat is undergoing chemotherapy, you want to make sure your vet is aware of everything you're doing to fight cancer. This way, if your cancer hero develops something like an upset stomach during treatment, it's easier to pinpoint the cause.
Nutrition Help for Cats with Cancer
We dream of the day that more veterinary oncologists specialize in feline cancer treatments, especially when it comes to cat cancer nutrition. Currently they are extremely hard to find, and there's a real lack of resources for cats with cancer. The good news is that with increasing numbers of pet parents becoming better educated consumers of pet health care, the days of "Cat Cancer Vets" are just around the corner. Meanwhile here are some resources that can help you get started learning more:
Pet MD: The Right Foods for Cats with Cancer
WebMD Pets: Cancer in Cats: Types, Symptoms, Prevention, and Treatment
International Cat Care: Treatment of cancer in cats
The Conscious Cat: The Right Diet for Cats with Cancer
Natural Cat Care Blog: Fighting Cancer in Smarter Ways
Pet Remedy Charts: Natural Diet and Nutritional Supplements for Cats with Cancer
Cornell University: Home Care for the Cancer Patient
Pet Health Network: Tiny Beads Cause a Revolution in Cancer Treatment in Cats
For the Pooches: The Dog Cancer Vet's Diet Downloads and Other Nutrition Help
One of the reasons you'll often hear Dr. Dressler's name in our community is because he's one of the best resources for taking a "full spectrum" approach to fighting cancer. His insight and suggestions combine the best of evidence-backed Western medicine and ancient Eastern holistic care.
Dr. Dressler's Dog Cancer Free Video Library has many free videos jam packed with great insight for canine parents. They'll help guide you through the maze of reputable treatments versus those that could be a waste of time and money. For example:
Dog Cancer Diet: What to Feed a Dog with Cancer?
Cancer Cachexia and Dog Cancer- When Your Dog Won't Eat
Feeding Carcinogenic Foods After You Dog has Cancer
There are many more free videos at the Dog Cancer Free Video Library and a larger library available from Dr. Dressler's Dog Cancer Survival Guide Toolkit. There you'll find his entire collection of dog cancer seminars available as MP3 audio recordings that you can buy, download and listen to on your computer, smart phone or MP3 player. Learn more at: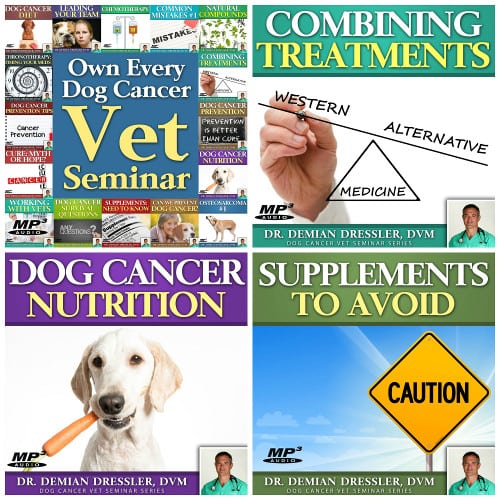 Have you tried Dr. Dressler's dog cancer diet approach? Have you tried other dog and cat cancer diets? What did you think? We would love to hear more so feel free to share your experience below.
Save
Save