We all know that vaccines can keep our pets safe from horrible diseases. But for most of us, that's the extent of our knowledge. Today, we're presenting a fast and easy way to get smart about vaccines. The following Guide to Understanding Vaccines for Cats and Dogs PDF download is painless to read and worth your time.
Understanding Vaccines for Dogs and Cats: Get the Basics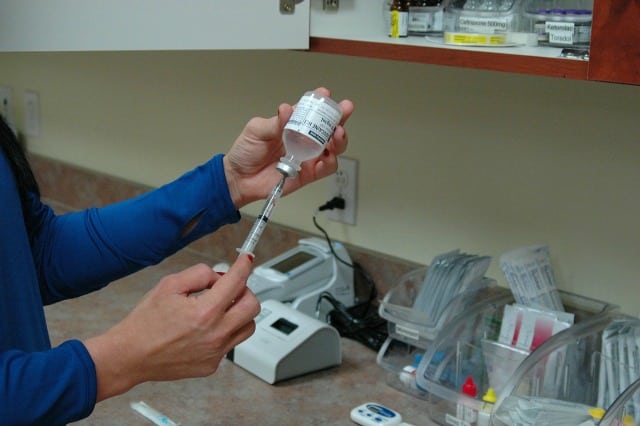 Earlier this summer Tripawds member Kerren and Mona brought this helpful article to our attention after Otis' mom asked:
i remember a forum a while back discussing whether dogs with cancer should be vaccinated.  Otis had a three year rabies in December, before he was diagnosed, but was "due" for his other vaccines.  I was prepared for a conversation with my family vet on this topic, but he didn't even bring the vaccines into the appointment.  When I asked, he said that he doesn't generally recommend vaccines for his cancer patients.  What a relief to not have to advocate on this issue! (read more in Treatment, Recovery and Oncology: Vaccines)
Most of us don't think twice about vaccines until something happens to our pets, like cancer. Don't wait to get educated under pressure. Read this fast article and learn basic facts about pet vaccines like:
What are antibody titers?
Which vaccines are "core" and which ones depend on location and lifestyle?
Why giving multiple vaccines at one time is a bad idea.
When should rescue dogs get vaccinated?
Should pets with cancer receive annual vaccines?
The article is based on a presentation by immunology expert Dr. Ronald Schultz, PhD. He is a principal investigator for the Rabies Challenge Fund, which works to extend the legally required interval for rabies boosters to 5 and then 7 years. The article is written by Lisia Rodier and originally appeared in Whole Dog Journal magazine. If you want to learn more about blending conventional medicine with holistic-minded approaches to better pet health, we highly recommend a subscription to this publication.
More Vaccines Talk around the Tripawds Community
Tripawds Forums: Alumni / Lucian's First Titre Testing
Tripawds News Blog: Rabies Vaccine Waiver for Cancer Dogs and Cats
Pet MD: The Truth About 'Titering' Instead of Vaccination
Whole Dog Journal: Vaccine titer tests: What they can and can't do
Rabies Challenge Fund: States with Medical Exemptions in Lieu of Rabies Vaccination