Pet cancer treatment and prevention is more promising than ever before. It sounds hard to believe, but according to experts gathered at a 2016 roundtable sponsored by Blue Buffalo Co., Ltd., advances in pet cancer are light years ahead of where they were ten years ago.
"Having worked in veterinary oncology for 30 years, the future looks brighter than ever before. There are advances being made in molecular diagnostics, genomics, and proteomics that give me such incredible hope that we'll be able to treat and eventually cure the majority of cancers that we see." —Gerald Post, DVM, MEM, DACVIM (Oncology), Practice Owner, The Veterinary Cancer Center, Norwalk, CT
Download "Advances in pet cancer: Innovation in research, scientific collaboration, therapy, and prevention."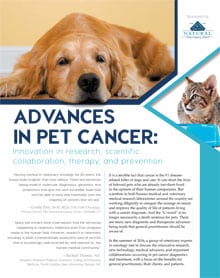 Cancer is no longer a death sentence for our pets. Download the "Advances in Pet Cancer" roundtable paper to find out why. You'll discover fascinating news such as:
The Biggest Advances to Fight Pet Cancer
Get a peek at new treatments being offered such as:
How Nutrition Can Lower the Risk and Treat Pet Cancer
Hope is priceless when you're dealing with cancer. This fantastic paper explains why you can have hope, and why the future does look better than ever for any pets (and people!) facing cancer. We encourage you to download the pet cancer treatment and therapies roundtable paper today.
With special thanks to Blue Buffalo for giving us this much needed ray of sunshine!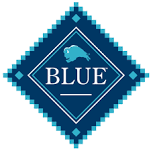 More Downloads About Pet Cancer Treatment
"Help Your Dog Fight Cancer" Author Laurie Kaplan on Tripawd Talk Radio
Learn How Pet Cancer Clinical Trials Seek Cancer Clues and Cures