In the U.S., less than five percent of pawrents have pet insurance.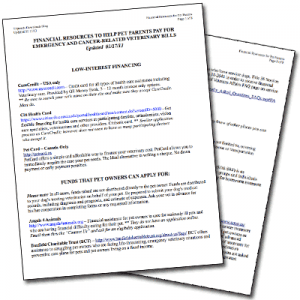 We all know how devastating unexpected veterinary bills can be on our budgets, and it's even worse when we don't have the insurance or funds to cover even the most basic care.
Sadly, many dogs end up euthanized because of this.
If you are caught in the heartbreaking situation of not being able to pay for your Tripawd's care, please don't give up. There are organizations who might be able to help.
The following spreadsheet is a list that was complied by Tripawds member Brownie1201, with the hopes that others may be helped with this information.
Three paws up to Nancy and Brownie!
If you know of any that aren't mentioned here, please let us know and we'll make sure the list gets updated.
Additional Veterinary Services Financial Aid
UPDATE: In addition to the financial assistance resources listed in the document above, members have shared the links below in the Tripawds Discussion Forums.
Veterinary Bill Assistance Programs: