Sick of the same old peanut butter treat recipes? Looking for a way to make tasty dog treats but you're short on time?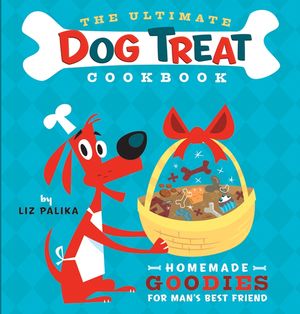 Then The Ultimate Dog Treat Cookbook is pawfect for you!
This fun and funky downloadable $9.99 e-book features 50 canine-tested, veterinarian-approved recipes for every canine connoisseur. Pawrents can stir up appetizing homemade treats for their beloved pooches using easy-to-find ingredients such as Kashi Cereal and soup broth.
The instructions are so easy even kids can follow along!
Recipe examples include:
Peanut Butter-Honey Nut Cheerios Balls
Taco Treats
Birthday Blueberry Pupcakes
Halloween Treats
Frozen Magic Meatballs, and more.
Download The Ultimate Dog Treat Cookbook today!
While many recipes include ingredients that aren't ideal for dogs battling cancer, there are recipes like Turkey Jerky and Salad Bar Bones that will meet their dietary needs. Fun and funky color illustrations plus Nutritional Notes and Treats and Tidbits about cooking and storing the goodies ensure that cooks will enjoy this book as much as their pets enjoy eating their tasty treats!
Keep in mind that some of the recipes contain ingredients such as garlic and avocado, which are the subjects of much debate about food safety when it comes to dogs. Although we've never heard of a dog being sickened from them (think "Avoderm" dog food!) always use care when introducing new foods to your dog.
This popular e-book is well-loved by Amazon readers and is also available in hard copy on Amazon.
Thanks for buying your e-books through this Tripawds Blog. All purchases made here help keep Tripawds.com online!