Recently, Tripawds member Ronnie wondered why his Tripawd gets tired during exercise and activity:
. . . But the last two times that I truned him out for a run he seems to be very weak in his back legs after a couple hours of exersize.
Everyone who starts a Tripawd journey eventually discovers the best ways to exercise and not exercise our three-legged pets. But instead of learning the hard way through trial and error, here's a better way: the Tripawds e-book "Loving Life on Three Legs: Canine Fitness and Conditioning for Happy, Healthy Tripawds."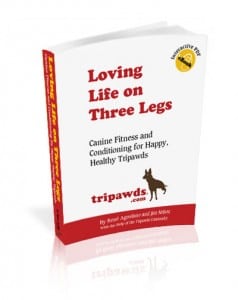 This handbook for keeping your dog healthy, strong and injury free is perfect for new or long-time Tripawd pawrents who want to make sure their pup stays injury free for life. You'll learn important things like:
What to do and not do during amputation recovery
The best and worst exercise for a three-legged dog
How much exercise is too much?
How to build your own Tripawd fitness gym
Where to go for pain management and rehab therapy
What to expect as your Tripawd gets older
Download Loving Life on Three Legs:
---
Don't wait. Your Tripawd needs all the help he or she can get in order to stay strong and healthy. Learn more about Loving Life on Three Legs and save 30 percent on a copy from now until midnight Pacific Time on February 28th.